Today, more than 100 countries have adopted the International Financial Reporting Standards (IFRS), either as originally were issued by the International Accounting Standards (IASB) or as required by a particular jurisdiction.
In Mexico, the adoption of IFRS for companies listed on the Mexican Stock Exchange is mandatory from 2012. The regulations of the Securities and Exchange Commission (SEC for its acronym in English) of the United States says it is probable, that within the next few years, the capital markets of the United States have made the complete transition to IFRS.
Experience
The Grant Thornton member firms, including Mexico, combining extensive international and technical experience in audits of financial statements based on IFRS.
Also, we help our customers and all stakeholders in the process of adopting International Financial Reporting Standards, or conversion of their financial information under Mexican Financial Reporting Standards (IFRS).
Our valuation specialists, internal control, and taxes, as well as experts in information technology, are available to advise him right where the conversion process requires the expertise of specialists in the field.
Our services in the process of adoption or conversion to IFRS, include among others:
Attendance in the selection of alternative IFRS accounting policies, such as voluntary exemptions from IFRS.
First-time Adoption of International Financial Reporting Standards; and help in assessing the implications of the selection of alternatives.
Identification of the specific differences in the various items of the financial statements between Mexican FRS and IFRS.
Identification of requirements to cover in the process of adopting IFRS, or to convert financial information under Mexican FRS to IFRS.
Determination of the necessary adjustments to the financial information reports remain in line with the appropriate basis of accounting.
Preparation of financial statements and disclosure in notes to meet the requirements resulting from the process of adoption or conversion, if any.
Direct counseling on accounting systems and internal controls in design and implementation, to comply with the adoption of IFRS, or the conversion process, if so.
Attendance of communications with stakeholders.
Providing specialized accounting personnel training.
Contact us, we can tailor our services to meet your specific needs. The IFRS conversion services may be limited due to considerations of independence.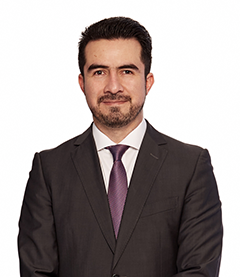 Get in touch
PARTNER & NATIONAL HEAD OF AUDIT PRACTICE